In 2003, Kathleen Folbigg was convicted of killing her four children over a period of 10 years. Despite natural causes of death given for Caleb, Patrick, Sarah and Laura Folbigg, Ms Folbigg was convicted of smothering them to death. The basis for her convictions were the journals she wrote in during the 10-year period; they were used as evidence to suggest she admitted to killing her children. Ms Folbigg has been unsuccessful in overturning her convictions and has served 18 years in prison. In combination with leading forensic pathologists concluding natural causes of death for each of the children, new genetics evidence shows the infants had genetic defects that can explain further how they died. For the first time, Ms Folbigg's journals are now being examined by experts who consider them to be unremarkable and contrary to the way in which they have been interpreted by the law to date.
There was reasonable doubt at the time of the conviction, now there is expert evidence that disproves murder.  It is time the conviction is overturned and she is freed.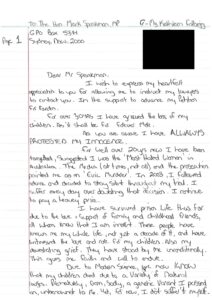 Kathleen Folbigg wrote a letter to Mr Speakman, declaring her innocence and asking him to change his view and consider the scientific evidence to recommend she be pardoned. Read the complete letter here.
Read More »